Epicurious
Epicurious.com is a widely used website with thousands of recipes, cooking tips, and one of the best for entertaining. It's now convenient with mobile apps.
Devices: iPhone, iPod touch, iPad or Android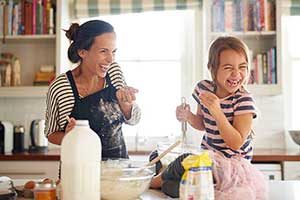 Hot Tamales: Easy to navigate, ideal categories, ratings and reviews, over 30,000 recipes, use keyword ingredients to find recipes.
For busy moms stop here! This app has 3 tabs for easy navigation; Featured, Search and Favorites.Find recipes in relative categories based on commonly searched phrases, such as, "Low Carb Mains", "Winter Dinners", "Healthy Breakfast", and many more. Epicurious is continuously changing the categories to better meet the needs of their users. On the days leading to the Oscars, you would find "Oscar Party Snacks" and "Oscar Party Drinks." Very Clever! They even have a featured category titled "I Can Barely Cook", which I find amusing, but in all actuality, a welcoming resource for many mothers.
Simply select a recipe and the list of ingredients and cooking instructions populates. Send your entire list of ingredients to your shopping cart to filter accordingly. While cooking you can read ratings and reviews from other users. The about tab informs you where the recipes originated and to keep our families in good health, they provide nutritional information for each dish.
Women love to share their secrets. Find a to-die-for recipe and share it on your favorite social medial network or email. (That sounds so basic these days.)
The Search Tab is my favorite part of the app. It basically allows you to select one or multiple ingredients, helping you create a delicious meal while cleaning out the fridge! You'd be surprised how much money you can save if you start with the ingredients that you already have on hand.
You have bacon and broccoli, but little time. Search both of these items and it will populate all recipes containing your search.
How to Cook Everything
You may have seen the award winning author, Mark Bittman, serving up succulent dishes to Ann and AL during his segment on The Today show or you may own the massive 900 page "How to Cook Everything" cookbook. Well, now there's an app for that!
Hot Tamales: Quick dinners, built in timer, total kitchen tips, specific categories, flexible shopping lists.
Devices: iPhone and iPad
The list of categories on this app will appeal to just about anyone's taste buds. The soup recipes vary from hot soups to cold soups. Hosting a baby shower soon? Don't forget a dessert soup. The Watermelon and Mint Soup received 80 votes! After the kids are put to bed, Facebook may be put on the back burner as you begin swiping through the section on kitchen Basics. It provides a total cooking lesson without ever leaving the house. You will find advice on everything you need to know, from essential kitchen equipment to spicing up your party dishes. The shopping list feature allows you to add additional items outside of your selected recipes. Condense to one list, print and go! Convenient? I'd say so. The best part of this app for busy moms is the Quick Dinners tab. You can find an assortment of recipes that can be prepared in 30 minutes or less. Is your list of things to do just as long as the recipe? You have the capability to set the featured timer during each step of the preparation just by clicking the highlighted time.
Paprika-
Paprika is slightly different from the two previous apps mentioned above. Paprika is more of recipe manager allowing you to search the web for any recipe and then organize by food category. Flipping through expandable file folders or overloaded 3 ring binders can now be replaced with this efficient app.
Devices: iPhone, iPad and Mac
Hot Tamales: Direct import from the web, share recipes via email, bookmark favorites, custom categories, menu planner.
The layout of this app is easy to use with four simple tabs at the bottom. You can import from thousands of recipes on the web using the browser feature or take all those printed favorites, search the web and save to this handy tool. If you're a review reader like me, don't forget many cooking sites provide multiple reviews and ratings from previous users. When you find the perfect recipe, click save at the top, which automatically downloads to Paprika, or simply save to your bookmarks. I'd like to pass along one helpful hint to get you started. To begin editing your preferences, you must click on the title of the recipe. You can then begin saving to a specific food category, rate the recipe or change to your personalized cooking level. From the recipe tab, you can create meal planners, add additional notes to the recipe, save as a favorite and send one or the entire ingredient list to your shopping cart. Once you've created your meal planner for the week, click on the groceries tab on the bottom. To say this app is designed for moms on the go is an understatement. You can omit items you have on hand or have already purchased. To simplify your shopping, the "+" not only allows you to add items to your list, but organizes by isle. Whoa! You can print or email the list to yourself and retrieve on your phone or…email to your hubby to catch on his way home from work.
I have all three of these apps saved to my iPad and use them extensively. Bon Appetit!