Slow cooked meals are an excellent choice for busy families with fussy kids to feed. Any meal where we consume the liquid the vegetables and meat was cooked in increases the level of nutrient we take in. When we boil or steam food much of the nutrient value is discarded in the water. Meals cooked in slow cookers, casseroles, Stews and Soups provide the added benefit of consuming the nutrient rich liquid.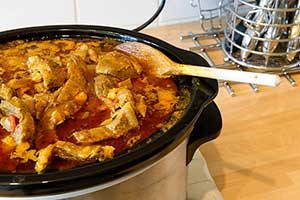 Some nutritionists say the opposite is true because when food is overcooked the enzymes are broken down and nutrient value is lost. Considering alternative Fatty "Take Away" options for busy families with young children the Nutrient value comparatively is quiet high.
Hard vegetables such as carrots, broad beans, canned kidney beans, sweet potato, turnip and parsnip are ideal vegetables to use in a slow cooker, as the slow steady cooking process will leave them tender and more appetising. Softer vegetables can be added half way through cooking to reduce them breaking down too much.
Older meats such as Mutton or Tough cuts of beef can be good options to use in a slow cooker for similar reasons as mentioned above. The slow cooking process breaks down gristle and leaves the meat tender and flavoursome.
Many softer vegetables break down to almost unrecognisable portions in a slow cooked meal. This is a good way of using vegetables that kids often prefer not to eat.
In addition to traditional Stews, Soups and Casseroles, Slow cookers can be used to cook Roasts and can also be used to cook cakes, bread and deserts that all kids will enjoy.
An excellent slow cooked main meal that kids will love can be made by mixing:
300g diced beef (lean stewing or casserole steak is fine)
1 Cup chopped carrot
1 Cup chopped potato
1 Cup chopped celery
Half a cup chopped sweet potato
Half a cup chopped turnip
1 Large finely chopped onion
1 Cup peas
Half a teaspoon curry powder
Pinch of salt
Corn Flour
1 Cup of Water
Combine all ingredients except cornflour in a large slow cooker. Cook until meat is soft to the point it pulls apart easily. Mix cornflour with sufficient water to forma paste and add to pot. Cook for a further 30 to 45 minutes and serve with crusty bread drizzled with olive oil. Creamy mashed potato is also an ideal accompaniment to serve with this.
The above recipe is obviously just a basic option. You can include any and many variations to suit your families' individual tastes.
Any herbs should be added as a garnish or in the last hour of the cooking process.