Two admired benefits of slow cooking are convenience and affordability. You can make simple, long and slow-cooked meals that get tender over time, and perhaps with the careful seasoning of Asian blend, you will have superb-tasting dishes your family will love.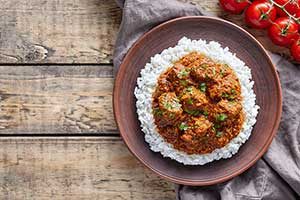 Recipes for a slow cooker or crock pot always contain some sort of liquid. As the liquid heat and start to evaporate, the lid forces the steam to inescapably return to a liquid state and completely surround the food. This process helps the food to stay moist and flavorful. Let me share some of the most delicious but affordable slow-cooked recipes with the savory and hearty flavors the Asian way.
Korean-Style Country Ribs
Ingredients:
4 cloves garlic, crushed
1 onion, sliced
1/2 an apple, grated
2/3 cup soy sauce
2 tbsp toasted sesame seed oil
2 tbsp brown sugar
white pepper, to taste
1 cup beef broth
2 lbs pork country ribs
cornstarch slurry (1 tbsp cornstarch mixed with a little water)
hot cooked rice
sesame seeds, toasted
Directions:
In a medium bowl, whisk ingredients together. Taste and adjust as desired. Put the ribs to slow cooker. Pour soy sauce mixture over the top of the ribs. Cook on HIGH for 1 hour and LOW for 4 hours, or until meat is fork tender.
Remove meat from cooker and set aside. Whisk slurry into broth in the cooker. Cover and cook for another 30 minutes, or until thickened. Serve ribs alongside rice with sauce over the top. Sprinkle with sesame seeds.
Pinoy Beef Pot Roast
Ingredients:
1 kg beef blade roast
Salt and pepper to taste
1 onion, minced
2 stalks celery, minced
2 carrots, thinly sliced
3 cups beef broth
cup Hoisin sauce
Directions:
Season the roast and place in slow cooker. Add the vegetables, beef broth and Hoisin sauce. Cover and cook on LOW for 4-6 hours. Serve with rice and blanched vegetables, spinach, broccoli, or Brussels sprouts.
Thai-Style Sweet & Sour Chicken
Ingredients:
1 lb (about 6) boneless, skinless chicken halves
tsp kosher salt
1 tsp black pepper, freshly ground
Large onion, cut into 1″ wedges
1 large green bell pepper, cut into strips
1/3 cup Thai sweet Chili sauce
2 tbsp spicy brown mustard
tsp ground ginger
tsp garlic, minced
cup rice vinegar
1/3 cup pure maple syrup
Directions:
Coat 4-quart or larger slow cooker with cooking spray. Sprinkle chicken with salt and pepper and place in cooker. Add onion and bell pepper. Combine remaining ingredients in small bowl. Pour over chicken in cooker. Cover. Cook on HIGH 3 to 4 hours. Serve over hot cooked rice, if desired.
If you have a clay baker and you prefer to use it for some slow cooked recipes instead of a crock pot, make sure you follow the manufacturer's advice on the right cooking method for each pot, although the general rule is to soak the baker in cold water first before use. Since clay bakers are especially good for slow cooked dishes, they are also ideal as vegetable steamer, soup kettle, poacher, roaster and brick oven.